Extended SWIR camera
C-RED 2-ER 2.2µm is an extended SWIR camera using an ingaas sensor with 3 characteristics:
high speed (600Hz full frame)
high sensitivity (60 e- of readout noise)
high QE from. 1.3 to 2.2µm
What is extended SWIR?
InGaAs material absorbs light in the short wave infrared spectrum and can be used as an optical detector in this range. Standard InGaAs-based detectors have a long wavelength cutoff of 1700 nm. They are fabricated by growing a crystalline layer of InGaAs on an indium phosphate (InP) substrate. In this case, the substrate has the same lattice constant as the alloy resulting in lattice matching. The sensitivity of InGaAs can be extended to higher wavelengths (up to 2.5 µm). Introducing more indium into the ternary compound decreases its bandgap and hence enables the detection of longer wavelengths. InxGa1-xAs with a longer cutoff is called "extended wavelength InGaAs."
Description of the camera
C-RED2 ER extended range InGaAs integrates a top of the art InGaAs sensor, able to detect wavelength ranges between 1.4 and 2.1 μm with more than 70% Quantum Efficiency. It integrates a VGA (640X512) 15μm pixel pitch and 9.60 X 7.68 mm array with 2 levels of gain.
For such spectral range, background emission (thermal emission) requires cooling of the sensor to limit background noise which would otherwise fill the well with noise and thus make the camera unusable. C-RED2-ER extended InGaAs camera uses water cooling to operate the sensor at -55ºC for optimal dark current.
Choice of camera interface
C-RED 2 ER extended InGaAs camera uses the Camera Link® Full interface. This protocol requires 2 data cables.
The camera has been developed and tested with specific grabbers for which a full SDK + GUI are provided:
Matrox Radient (ev-CL)
Teledyne Dalsa (Xcelera-CL + PX8 Full)
ETD (VisionLink F4)
C-RED 2 ER extended SWIR camera can also work with USB 3.1 Gen 1 interface(USB-C connector). In this configuration, C-RED 2 ER extended ingaas camera is detected as a composite USB device (control + acquisition interface).
Description of the readout modes
The acquisition speed ranges from 0.01 to 600 fps, the integration time can be set from 20μs to ~1/fps.
Different available Readout Modes:
Single Read: The entire frame is read before a reset period (with CDS)
Integrated Multiple Readout (IMRO): he user must specify a number of multiple non-destructive reads which corresponds to a number of frames that are read and delivered at a selected speed. It's a burst mode.
Windowing for even higher frame rate
It is possible to select one region of interest and acquire datas from this ROI only, column granularity is 32 and rows granularity is 4. Speed increases with read array reduction
C-RED 2 ER main features
• Specific factory-built correction map. The defects on the sensor, specific to extended range detectors, are corrected on-the-fly, offering very high image quality. The correction file is built by First Light Imaging.
• On-the-fly corrections. In addition to the factory-built correction map, bad pixel correction and a two-point NonUniformity Correction (bias and gain) can be applied in real-time.
• Easy integration. The camera can be easily integrated in a system thanks to the mechanical interfaces on each side, and has a C-mount optical interface. C-RED 2 ER is supported by our software First Light Vision. Additionally, thanks to a versatile SDK, the camera can be interfaced with MatLab, LaView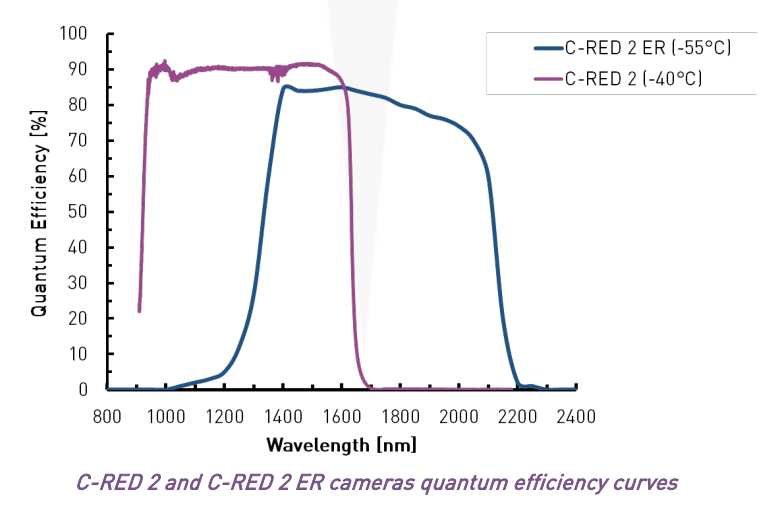 Learn more about SWIR applications
Learn more about extended SWIR cameras with this application note.