ORCA-Flash4.0 LT3 & V3 digital sCMOS cameras, in a nutshell
The ORCA-Flash4.0 LT3 is a new scientific CMOS camera for fluorescence imaging, released in 2023, which has been improved from the ORCA-Flash 4.0 released in 2011. It is equipped with a high level of performance required for fluorescence imaging such as life science applications, and can be used not only for basic research applications but also for integration into various types of equipment.
The ORCA-Flash4.0 V3 is an even more advanced scientific CMOS camera with slightly lower readout noise, higher speed when using its Camera Link interface and  a revolutionary and patented Lightsheet Readout Mode. The ORCA-Flash4.0 V3 expertly handles applications ranging from the acquisition of beautiful scientific images to experiments that demand detection, quantification and speed. With on-board FPGA processing enabling intelligent data reduction, highly refined in-camera, pixel-level calibrations, increased USB3.0 frame rates, purposeful and innovative triggering capabilities, patented light-sheet read out modes and individual camera noise characterization the ORCA-Flash4.0 V3 is the precision instrument for imaging.
ORCA-Flash4.0 LT3 & V3 digital sCMOS camera, in more details
High SNR equivalent or better than BSI cameras
The graph below compares the readout noise distribution with a Gen II BSI (back-side illuminated) camera and shows that the ORCA-Flash4.0 LT3 has more pixels with smaller readout noise. With a low readout noise of 1.5 electrons rms, the ORCA-Flash4.0 LT3 delivers high SNR comparable to or better than a BSI camera, especially in the low light range. This performance can be demonstrated in high quality multidimensional imaging, as typified by long time-lapse imaging with low excitation light with low photo-toxicity and photobleaching. The ORCA-Flash4.0 V3 achieves even quieter readout noise, with 1.4 electrons rms in slow scan.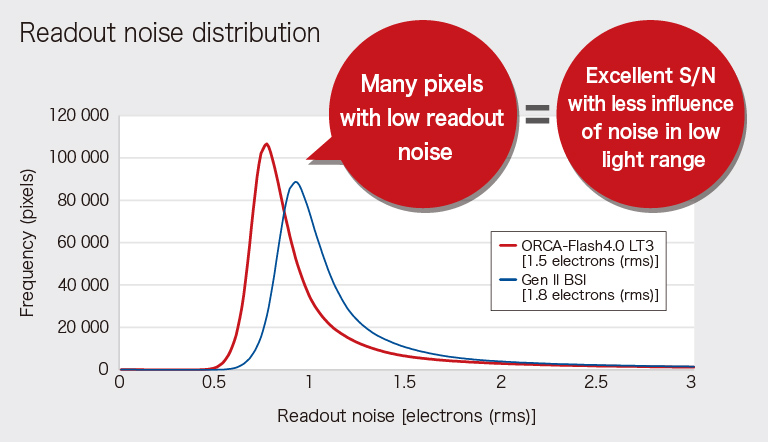 High-speed readout
The ORCA-Flash4.0 LT3 is capable of 40 frames/second readout, which is even faster than the conventional ORCA-Flash4.0 LT+ (30 frames/second). This is useful for applications which requires real time measurement with high temporal resolution.
The ORCA-Flash4.0 V3 achieves the same speed in USB3.0 and can go up to 100 fps in full frame resolution using the Camera Link interface. This is more than 419 MegaPixels per second readout rate.
Large field of view
The wide field of view of 13.312 mm (H) × 13.312 mm (V) allows more information to be obtained in a single shot.  This contributes to higher throughput in experiments such as DNA chip reading.
Lightsheet Readout Mode [Patented]
In addition to the above features of the ORCA-Flash4.0 LT3, the ORCA-Flash4.0 V3 also includes Hamamatsu's patented light-sheet readout mode which takes advantage of sCMOS rolling shutter readout to enhance the quality of light-sheet images.
Lightsheet Readout Mode is a unique and patented feature of Hamamatsu sCMOS cameras which can improve signal to noise ratios in light-sheet microscopy. For more information about the principle and features of Lightsheet Readout Mode, please visit Hamamatsu blog.